06MONTEVIDEO1179, 10LONDON268 & 10ASTANA267: WikiLeak-a-Day Show Dec 16 2010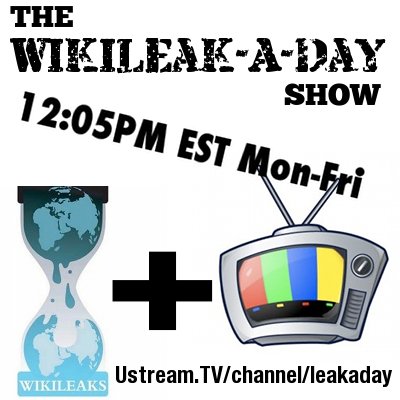 Today on the WikiLeak-a-Day show we discussed cables 06MONTEVIDEO1179, 10LONDON268 and 10ASTANA267. (With those reference IDs you can find the cables and discussions relating to them.) Tune in again tomorrow at 12:05PM EST. We're on Monday thru Friday at the same time, 12:05PM EST. The show is short, 15 minutes or less. Listen to it as you eat your lunch!
Unfortunately I ran over 15 minutes by just a few seconds today and now it won't sync to YouTube. Apologies. I will be more careful in the future. Here is the direct link to watch it on ustream.tv.

Here are links to the items we discussed today:
The WikiLeak-a-Day Facebook page.
WikiLeaks cable 06MONTEVIDEO1179, LEFT USING HUMAN RIGHTS TO DISCREDIT US
WikiLeaks cable 10LONDON268, ENGAGEMENT WITH MUSLIM COMMUNITIES IN THE UK
WikiLeaks cable 10ASTANA267, KAZAKHSTAN: SPECIAL REPRESENTATIVE HOLBROOKE
The Guardian: Evgeniy Zhovtis – imprisoned for defending human rights?
Glenn Greenwald: Getting to Assange through Manning
Countdown with Keith Olbermann > Bradley Manning
AlterNet: WikiLeaks Exposes the Corporate Media's Deference to Power