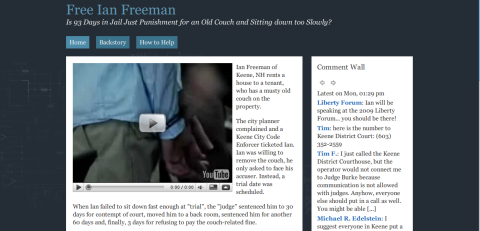 On Saturday afternoon I had an epiphany. I realized that we needed a central website where you can find basic information on Ian Freeman's arrest and that included links to all relevant blog posts, videos, news coverage and other media.
93Days.com was Born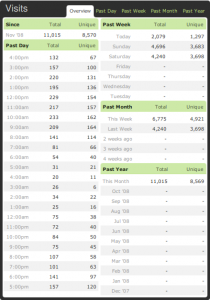 So I set to work. I asked for help on some of the NH liberty-oriented forums, and got some great ideas. I registered the domain 93days.com, threw a WordPress site on the server, hacked a theme a little and voila, 93days.com was born.
Promoted using Social Media
I collected links to original media, to related website and Digg and Reddit threads. Once it was presentable, I promoted the site on Facebook, Twitter, Reddit, Digg, Google and many other websites.
8500 Unique Visitors in 69 Hours
By 4PM today, 69 hours after launching at 7PM EST Saturday, 8,570 unique visitors had viewed pages on the website more than 11,000 times (see stats above). And that was before news broke of Ian being released.
Within six hours, I found the site at the top of Google search results for key terms. Alexa reported it went up 16,017,769 rankings to the number 863,736 most-visited website.
I am Awed
I am awed by how fast this happened. Since when do brand-new domains go from zero to top search results in Google in six hours? Since when do people spontaneously collaborate like this so instantaneously. Truly, it is amazing what we can do. I am so pleased about my decision to move to New Hampshire.
Today I even saw a Ridley video where a Lauren Canario protester had a sign promoting 93Days.com!
We need a Liberty Media Rapid Response Team
I threw this together in a couple of hours. Imagine what a team of people, including not only IT people but also marketers, writers, developers, photographers, press-release-writers, letter-to-the-editor-writers, graphic designers and others could do.
We need to be Prepared for Next Time
If you're interested in joining a team to instantly deploy single-issue, activist-support and related media campaigns using both old and new media to get our liberty message out there, please get in touch or leave a comment below with your ideas. We need to be prepared for the next time.