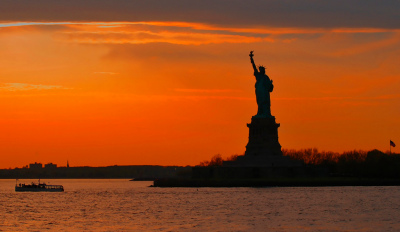 Given the choices we face this year for President, it's likely we will get another tax-and-spend, civil-liberties-eroding, foreign-adventuring head of state. And even if we don't, and Bob Barr is elected, he will still need a Libertarian Congress if he's to get much done.
If it Works…
The Republican Contract with America is generally believed to have not only helped the Republicans take over the House in 1994, but also put President Clinton on the defensive.
In these times of the so-called "unitary" executive, putting His Royal Highness the President on the defensive is a must if we liberty-lovers are to reverse the totalitarian trend of late.
The Concept of Accountability was the only Revolutionary Aspect
But it was a real softball. The only revolutionary aspect to it was the implication that politicians might be accountable to their constituents.
Significant Pledges to Shrink Government
So, I propose a Libertarian contract with America, and one with real teeth – significant pledges to take action that will directly shrink government and increase freedom for people in these United States.
I have tentative plans to run for an Eastern Pennsylvanian Congressional seat in 2010, so this is not an academic exercise.
The Pledges
Our contract would not be a stack of limp-wristed procedural nonsense no one cares about, but instead actions that, if successful, would bring America back from the precipice it currently finds itself hanging over.
Introduce a balanced budget amendment.
Fix Medicare and Social Security, the out-of-control entitlements that we will never be able to pay for.
Introduce a plan to pay down our national debt.
Introduce the repeal of the 16th amendment and eliminate the IRS, thereby eliminating the federal income tax – and replace it with nothing.
Close US military bases and bring home the troops.
Restore lost civil liberties, including habeas corpus and an end to warrantless wiretapping.
End the use of torture as an intelligence-gathering tool, give the Guantanamo inmates fair trials and close down the prison.
Eliminate all welfare, subsidies and the like, for corporations, individuals, political parties – everyone.
Eliminate the Department of Education. Education is a local, not federal, concern.
Eliminate the Federal Reserve and let alternative currencies flourish.
Stop the War on Drugs, and free non-violent drug offenders currently incarcerated in federal prisons.
Restore a strong national defense.
Reign in Homeland Security and the TSA
Research and vigorous discussion are undoubtedly required to determine (1) what 10 pledges should be selected (2) the best way to go about implementing the selected pledges. Congress may not even have direct authority to implement some of these proposals. I'm certain there are a lot of good plans already out there, as well. We need to find them.
What to Call it
Here are some possible names I have come up with.
Declaration of Independence II
Liberty Compact
The Free Deal
Freedom Pledge
A New Deal for Congress
Contract for the People
Articles of Liberation
Libertarian Bond(s)
The Free Society
We the Taxpayers
The No Deal
Charter for Liberty
Reclaim Congress
The Un-Deal
A New Freedom
We Pledge to America
I don't much like any of these names so far.
Let's Discuss
I'd love to discuss this with anyone else considering running for Congress in 2010. I would expect mostly Libertarians to be interested in this kind of platform, but I don't think we need to limit this effort to just LPers. I can see a certain kind of Republican or Constitution Party member signing on, perhaps even a rare Democrat or two. The more the merrier.
I know some of my target audience is busy running for Congress right now, but let's not put this off till the last minute, either.
Want A Libertarian Congress NOW?
I doubt enough candidates are running to secure a Libertarian majority in the next Congress but here are some interesting links: