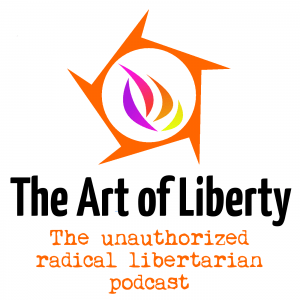 In our 11th episode of The Art of Liberty podcast, John and I talk about peaceful parenting and Walter Block, an austrian economist and an-cap who argues that kids are not protected by the non-aggression principle and that parents are justified in using aggression against them. John and I obviously did not let this insanity pass unnoticed.
Listen Now
Show Notes
What is a Peaceful Parent? http://www.ahaparenting.com/parenting-tools/Peaceful_Parenting
Dr. Walter Block on Triple-V: https://www.youtube.com/watch?v=9iFj7LJqeVw
Ask us a Question!
Ask us a Question on Air! Call (641) 715-3900 ext. 255888 and leave us a voicemail with your question so we can play it on the air.
Subscribe to the Podcast

Now on YouTube
You can now also listen to the podcast on YouTube. Click here for this week's episode.
About the Podcast
The Art of Liberty is a 45-minute weekly podcast about current events and politics by John Tyner and George Donnelly, two highly opinionated, yet eminently reasonable, libertarian activists from opposite coasts. We record every Monday morning and release a new episode every Tuesday morning.