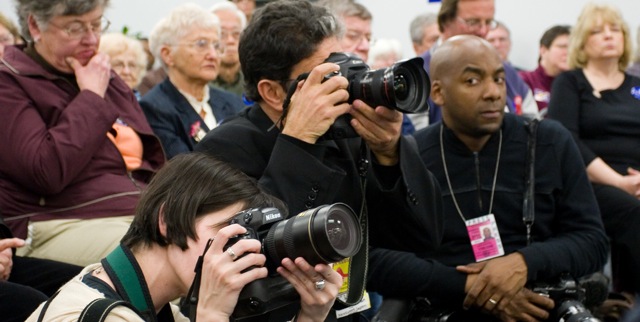 A few weeks ago I stated my intention to form an LP Transparency Caucus.
I'd like to form a Transparency Caucus in the LP in order to identify what concrete and specific steps we can take to be more open and to restore people's trust as well as to field a slate of candidates for LNC in 2010 that sign a transparency pledge, so that we can effect real change.

This is not a reformer vs radical issue. This is about running an organization in the sunshine, not the dark.
We Make a Great Team
Now that I've had the great fortune to team up with such collaborators as the well-known Paulie Cannoli of IPR, Matt Harris, Chairman of the West Virgina LP affiliate and Mike Seebeck, member of the California LP affiliate who broadcasted this past weekend's LNC meeting, we're doing just that.
Need your Feedback
But we need your help. What should our mission, goals and other basic defining statements be? What should we work on first?
Please note that we're just getting started, so don't expect too much of us yet. What we're doing now is simply to practice what we preach and give you a chance to shape the caucus at this early stage.
My Rough Draft
Here is my very rough draft of a first proposal to define what our new Transparency Caucus will stand for.
(1) LPTC Vision (two proposals)
(A) The LP Transparency Caucus envisions a Libertarian Party where all members have prompt, free access to party leaders, reports, documents and other information.
(B) The Transparency Caucus wants a Libertarian Party where secrecy and mistrust have been banished because members have free, timely access to information on the administration of the party.
(2) LPTC Mission (two proposals)
(A) The Transparency Caucus seeks to banish secrecy and mistrust from the administration of the Libertarian Party in order to build greater engagement with the membership for a cohesive Libertarian Party that transcends ideological battles.
(B) The Transparency Caucus seeks to build a cohesive Libertarian Party where members of all factions can participate knowing that decisions are made in the sunshine – not the dark – by fostering greater openness and accountability in the running of the national Libertarian Party.
(3) LPTC Values
Our values include openness, fairness, integrity, civility, truth, receptiveness and responsiveness.
(4) LPTC Strategies
Our strategies will include:
– broadcasting of all LNC meetings
– requesting information from LNC members
– proposing transparency rules for the bylaws
– lobbying of LNC members
– surveying current and prospective LNC members
– endorsing candidates for internal party offices
– distributing party information and analysis to all interested LP members.
(5) LPTC Goals and Action Plans
Our goals are pending feedback from interested members.
Our action plans are pending.
(6) LPTC Tagline
For a More Open and Accountable Libertarian Party.
Also Discuss this at …