When law enforcement graduate Pete Eyre entered a Keene, New Hampshire courtroom last Monday, he didn't expect to be snatched from his chair and placed in a cage. But that's what happened. His crime? He wore a hat.
"When a gesture of respect is made mandatory, it becomes an act of submission. I believe all men and women are created equal. No one may be forced to submit to another. That's just not right," said Eyre, after being released from jail on Thursday.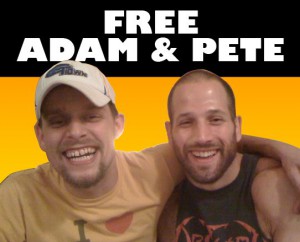 Eyre is charged with resisting arrest and disorderly conduct by Keene police officer James Cemorelis under docket number 11-CR-311. But video of the incident, available on YouTube, shows Eyre sitting quietly in the unused courtroom. It also shows that while Eyre did not actively cooperate with Cemorelis and fellow officer Matt Griffin, he also did not actively resist.
"Wear a hat in court, get taken to the ground, a knee to the head, and dragged away. Welcome to the land of the free!" said spectator Ian Freeman, who witnessed the arrest.
In his complaint, Cemorelis accused Eyre of creating "a risk of causing a breach of the peace or public inconvenience" when he "refused to remove his hat or leave the Keene District Court when requested to do so by a bailiff."
"Moments after the arrest, a police officer walked into the court wearing a hat, and none of the bailiffs said anything about it," added eyewitness Mike Segal.
In 1670, William Penn, a prominent Quaker and founder of the state of Pennsylvania, was found in contempt of court for having a hat on in court. Many Quakers in the 17th century, including founder George Fox, faced excessive force for simply honoring their religious beliefs.
"My religious views are aligned with the perspective of the Quakers," Eyre added. "I don't use or acknowledge titles, bow to those considered socially superior – or take my hat off in court."
During Eyre's arraignment the next morning, spectator Adam Mueller told Edward Burke, Keene district court judge, that his court was "a joke." Under docket number 11-CR-325, Burke sentenced Mueller to 60 days in jail. Mueller is in segregation 23 hours per day and on a hunger strike. [Correction: Mueller ended his hunger strike.]
Pete Eyre is a marketing consultant, videographer and holds a master's degree in law enforcement from Western Illinois University. http://FreePete.org
With $715 raised in 7 hours from members of the liberty community, I sent this release out to PRNewsire's US1 Newsline. It's already been posted on roughly 50 local news websites, reuters and yahoo news. We're working on increasing the exposure here.