I'm writing science fiction. I've been working on it steadily for a few years now. Here are a couple of new works I'd like to share with you.
Defiant, She Advanced
Defiant, She Advanced is the first libertarian science fiction anthology in more than a decade. It's ten stories of defiance and daring from eight libertarian authors. Here is the blurb: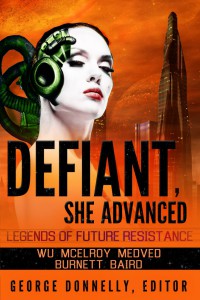 From the Imperium-controlled aetherlanes to a tech noir restitution agency in the Free Zone and from a steampunk, 1894 China with clockwork automatons to a post-1984 Orwellian dystopia with mandatory goodpharm, here are ten science fiction stories of defiance and daring.
Split evenly between strong female and male leads, these heroes fight losing battles on principle alone, discover lies hidden deep inside themselves, execute daring rescues and fight for love and liberty in a society where human dignity is cheaper than obsolete swarmbots.
These original, never-before-published works are from veteran authors, including William F. Wu and Wendy McElroy, as well as emerging talents.
Get it at Amazon, download a free sample or read more about it at GeorgeDonnelly.com/defiant.
The Death Shop
The Death Shop is a paranormal dystopian science fiction novella. Here is the blurb:
The Republic Trust is terminating hungry people by the thousands in feed lines across England. Ailsa struggles to fill her daughter's stomach and break the girl's addiction to viewscreen soap operas on the dreary streets of London.
After a thirty-hour stint in correction for both mother and daughter, endless hungry nights and resorting to prostitution to keep her little girl alive, Ailsa's protectorate is called to the dreaded uplift.
Without hope, special permission or transportation, there is only one escape for these girls — the Death Shop. What lies on the other side may not provide the safety Ailsa sought.
Purchase the novella as part of the Defiant, She Advanced anthology or get it for free here.
Even More
Here are even more great reading options, all but one from fellow authors.
What's Next
I'm currently working on parts two and three in The Death Shop trilogy as well as Project B, a high-tech thriller. Be the first to discover my new releases and get a free copy of Lando Cruz at GeorgeDonnelly.com/updates.