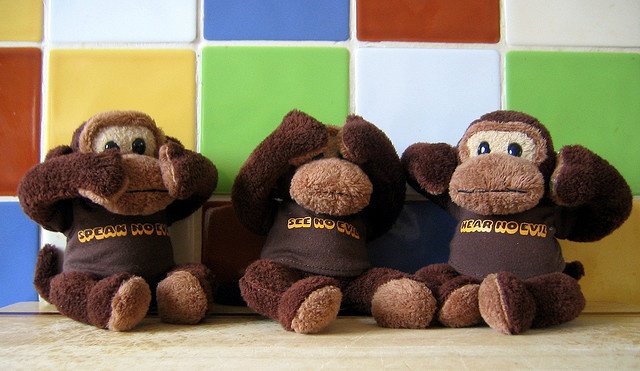 Can we take Mr Obama at his word? Are the right's criticisms of his planned attack on the health care industry invalid just because they have no basis in current bills? Can we trust that today's power grab won't enable unexpected future abuses? That's what a friend of mine implied when they posted a link to Obama's August 20th health care forum with a suggestion to get the story "straight from the horse's mouth."
Willfully Blind?
The comments in yellow are the statist's. The rest are mine. Please read the discussion with an eye to how I can better respond to the person's arguments.
He's a politician. Everything comes out of his mouth crooked and twisted, rarely if ever straight. ;D
Everyone has an agenda. But those who can back up their views with facts and worthy of our attention.
Yet not everyone wishes to have power over their fellow man. Hence why politicians can never be trusted.
I don't think of politicians as having power over me. In essence we decide whether they get to keep their jobs. So the public has power over them. In society everyone has a job to do. Some are doctors, lawyers, teachers,or lawmakers. I think what most people don't like about "Politicians" is their ties to lobbyists. Take out big donor contributions from campaigns and you have more noble minded people willing to work for their constituents.
You can deny reality but in fact politicians have power over you and me. They can make new laws that are enforced with the guns of police. That's power you and I don't have.

FTR, I am against all politicians, including Bush, Reagan, Paul etc.
I don't think politicians are the problem. They make the rules just like a school board, a company's execs,a hospital administrator, etc . But for the most part (in recent history anyway) they have been governing in the interests of the constituents they serve. Again there are instances where lobbyist get in the way of the common good. But I remind you that, if you don't like your politician demonstrate, campaign, and vote against him or her. We have power too.
The difference is that one can choose a different school, company or hospital, but the government forces itself upon you. There is no competition. It's an aggressive monopoly.
But when you change schools, doctors, etc you still have authorities in those institutes that are in control. If you don't like your elected official you can work to change him/her. We did that in 2008. People were upset about the Vietnam war in the late 1960's and voted out the Party in power. The country didn't like Bush and the direction the country was going in and so they voted against the Republican Party in 2008. I believe there should be more political parties participating in the election process.
I can change my school, doctor, vendor at any moment I wish and benefit from sth faintly resembling a free market still at least.

I can't change my government "provider". Ever.

It's not that I don't like the politician assigned to me, it's that I prefer to deal with my fellow person via reason and voluntary association, not via aggression, as the government does.
Yes but if you look at the history of this country the philosophy of the players has changed, as well the number of citizens in this country able to participate in the process. Again I tell you if you don't like the players change them. If you don't like the way things are done in this country protest, work towards changing it, or move…… Organize and campaign for someone different. That's how Women, African Americans gained the right to vote- they changed minds and some of the players.
If I can change hospitals in the blink of an eye, why is it any different for government? Why did women and african-americans have to struggle so hard? Imagine all the wasted time fighting for what was theirs by birthright. What a shame. Imagine if you could free future generations from those kinds of struggles.
Its not a question of why they had too. Its a testiment to their will power that they did work so hard to change things. You are never going to find 300 million people who all have the same beliefs and understanding. I don't agree with your view of our governments role in the lives of its citizens. Our government should strive to try to best represent all of us. Thats what their struggle was all about. Thats what their struggle was all about.
Exactly, everyone has their own opinions and preferences. That's why we can change doctors or grocery stores or restaurants when we feel like it. Government is the only institution that forces itself on us. Instead of letting everyone go about their business peacefully, imagine how many lives have been wasted by governments. It's disturbing.

How can 545 people represent 300 million? Why should they? Let each person represent himself.
That's just the point! If we had no government everyone would not be allowed to go about their business peacefully. The wealthy would run the poor. Those with more land and more resources would subjugate those without. In a free market economy people with sufficient control over resources and wealth have the privilege to purchase goods and services often priced very highly placing the poor in a situation where they are priced out of the system. How can government impact this?
Look at how public schools have had a significant effect on rates of poverty in the US, esp among African Americans. http://www.census.gov/prod/2001pubs/p60-214.pdf

"If everyone is totally free, then no one is truly free, owing to the threat we pose to each other". Without law their would be chaos. Besides which we are both ruler and ruled in this country. Many of the laws we follow, we as citizens have helped shape. Again I refer back to the Civil Rights movement and the Civil Rights Laws of 1964.
The rich and connected use govt right now to interfere with people's peaceful business and subjugate some for the benefit of others. It's governments that have allowed a few to control one important commodity, for example – oil.

It is government, through its central bank and the policy of constantly printing new dollars out of thin air, that causes prices to rise so dramatically. Since the institution of the central bank in 1913, the dollar has lost 96% or more of its value. Government did that.

Government enables some people to get an unfair advantage over others by forming corporations, which is a grant of limited liability and favorable tort laws. Not to mention bailouts.

There can be law without government. If government does not deny people their right to defend themselves, society becomes more polite and safe.

You were alive in 1964?

Make no mistake about it. You are ruled. You must give 50% or more of your income to the government. Your bank account is raided by the banking cartel's central bank in the form of inflation. Your right to protect your life is heavily impacted by gun control regimes and government healthcare limitations. You can't work without agreeing to social security, which our generation will never even see.

This year you worked until just 11 days ago to pay for government.
Government Interferes with Peaceful Business
Interestingly, I came across this information about just some of the latest anecdotal incidents of government interference with people's peaceful business:
From Fr33 Agents: U.S. Gov't to Crackdown on Garage Sales?
From a Facebook comment: "One of our sister churches in SC sent a truck with free sandwiches and such for huricane victims, and the govt. goons shut them down 'for operating a restaurant without a license!'"
Purpose to Learn, not to Ridicule
Please note that I post this not to ridicule anyone, but in order to receive constructive criticism of how I handled it. I present the discussion merely as something for you to analyze – so I can learn from you. :D Please do not engage in any personal attacks. Thanks.