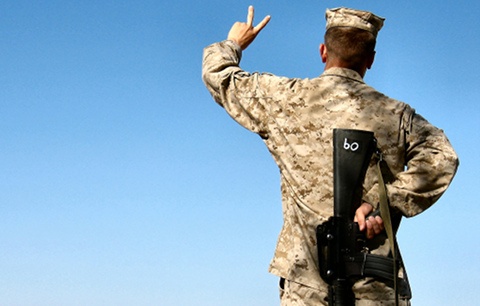 La Boetie wonders in his Discourse on Voluntary Servitude (this month's Liberty Reading Group selection) why people are so easily fooled and enslaved by tyrants. With that question on the brain, I approached progressive and Obama supporter "vdaze" on twitter in the following conversation. As you read, please consider how I could have handled myself better, and then let me know in the comments.
vdaze: The US expects the Gummint to provide roads and postal services, but not affordable access to quality HC. Huh. #p2

Me: actually some of us think the govt is evil aggression and we can handle our business w/o them #tvot #p2

vdaze: And I wish those who feel that way the very best of luck. #tvot #p2

Me: well thank you! That's the spirit. :) #tvot #p2

vdaze: I respect your beliefs, it's a valid point of view – just not one that I share :-) #tvot #p2

Me: sweet. If we all respected each other's beliefs, these political problems would be no more. end aggression for better world #tvot #p2

vdaze: If only :-) #tvot #p2

Me: curious, if that's what you want, why support Mr Obama (judging by icon in your avatar)? You aware govt ppl r aggressors? #tvot #p2

vdaze: I believe ppl should respect the views of others (provided those views are based on truth, not Fox crap) #tvot #p2

Me: then why do you support politicians? they force their views on others with aggression. #tvot #p2

vdaze: I believe in the existence of Govt as a necessary function of society. I do not "support (all) politicians". #tvot #p2

Me: you support govt but you want to respect the views of others. This is a contradiction. #tvot #p2

vdaze: Supporting Govt and respecting YOUR views (although not agreeing) is not a contradiction. Don't twist my tweets. #tvot #p2

Me: No twisting here. Govt is aggression, aggression is the opposite of respect. Hence the contradiction. #tvot #p2

vdaze: Human beings are selfish and acquisitive at their core, and thus I don't personally feel voluntaryism is realistic #tvot #p2

Me: that's fine, bc I respect your right to form, hold and act on your beliefs. Do you reciprocate? Not if you support govt #tvot #p2

vdaze: I'm not saying that your views are wrong by any means, it's just not something I believe in. #tvot #p2

Me: Sure, I understand. We each are individuals with the right to live our own lives as we see fit, right? #tvot #p2

vdaze: I'm speaking of an individual respect between you and I. My support of Govt is not a contradiction. #tvot #p2

Me: you claim to respect me but you support your govt's aggression against me. Therein lies the contradiction. #tvot #p2

vdaze: You don't seem to respect my views at all, which is why you keep trying to convince me they're wrong. #tvot #p2

Me: I respect *you*. Views/beliefs/opinions are not deserving of respect, instead of everlasting skepticism and investigation. isn't that skepticism and investigation and questioning the way one finds the truth? #tvot #p2

vdaze: For someone who believes in the non-aggression principle, u sure seem to be aggressive abt ur non-aggressive views #tvot #p2

Me: My respect for you is evidenced by the fact I don't aggress against you or support anyone who does. #tvot #p2

vdaze: My support of the function of Govt is not abt you. There is no contradiction. #tvot #p2

Me: your support of govt affects me bc your govt's wars, taxes, inflations, edicts and other injustices impact me and mine. your willingly given taxes paying for the guns that your govt points at me. How is that respectful? #tvot #p2

vdaze: U continue to challenge me on my position, even though I've explained why I don't support ur views. #tvot #p2

Me: I don't want you to support my views. I want you to support your views. ie that people should respect each other. evidence your respect for your fellow by putting down your govt's guns. Please? #tvot #p2

vdaze: Thinly veiled, ur tweets indicate that true respect for u will only occur when I support ur views of anti-Govt. So if by "respect", u mean that I shld support abolishment of Govt, then u are the one contradicting yourself. #tvot #p2

Me: so you support respect for others, but not "true respect"? What's the difference? you have taken the discussion into semantics. The meaning of respect is clear, isn't it? Why muddle it? #tvot #p2

vdaze: Have I told u that ur views are wrong? Invalid? No. Simply that I don't agree and I've given u my reason why. Are you saying that "true" respect is the abolishment of Govt? #tvot #p2

Me: you say you respect ppl so just want to understand how you resolve contradiction of also supporting aggression? Any ideas? #tvot #p2

vdaze: No, apparently the meaning of respect is not clear with u. Respect does not equal agreement with ur views. #tvot #p2

Me: Straw man. Never said it did. Simply trying to understand how your claimed respect for others can include aggression? #tvot #p2

vdaze: I believe I said that I respect ppl's views. U reject this bc I don't also *support* ur views. #tvot #p2

Me: I don't care what views you hold. I just don't understand why you think aggression = respect. Can you explain it to me pls? #tvot #p2

vdaze: I continue to respect ur position in relation to Govt, but I don't agree. Just like u don't agree with my position. I have not told you that you're wrong, or that your opinions are invalid. I simply don't agree. #tvot #p2

Me: Not about my views. About yours. I can't grasp how you reconcile support for respect and support for aggression. Explain? #tvot #p2

*Note that I left out some parts of the conversation I consider irrelevant or repetitive.
My Analysis
Vdaze is an otherwise reasonable person who tries very hard not be aware of the fact that support for government aggression is incompatible with a desire to respect her fellow man! She wants to pretend the government, and her work in support of it, does not exist! She attempts to take the discussion on tangents multiple times, uses assertions instead of arguments and generally is non-responsive to my key questions. I can sense her discomfort at attempting to hold the contradictory ideas of respect and aggression together at the same time, can't you?
For the Future
This kind of cognitive dissonance is worrisome. When they're shoving death down our throats, will the supporters of the current tyrant tell us it's really life?!