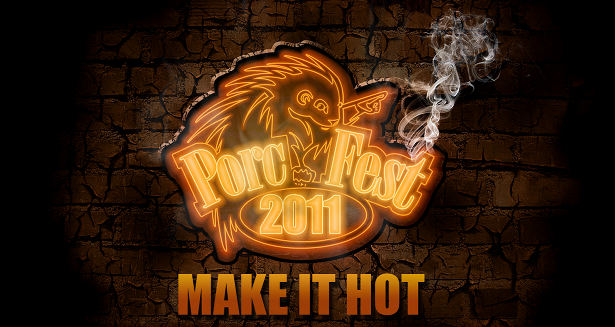 The Free State Project's (FSP) annual Porcupine Freedom Festival ("PorcFest") is running a deficit of $10,000 and urgently needs to remedy the shortfall, according to PorcFest organizer "Sovereign" Curtis [redacted, ask me why if you want]. Donations are being requested and event sponsorships are for sale. You can donate here and register for PorcFest here.
Fundraising Neglected
What happened? I talked to Curtis this morning. "Initially," he said, "I created a very ambitious budget. About double last year's. I had very high hopes/expectations. I hoped/expected to get some serious help for fundraising. I had a few people take on the job, but not make much progress. Even though I was working on so much more, I was still able to raise the majority of the funds we presently have, it just wasnt my #1 (or 2 or 3) priority for far too long. I also didnt have my eye on the overall budget like I should have. I have Edi acting as my treasurer, but she doesnt have the big picture and so couldn't sound the alarm. I did the math a couple days ago, and discovered what should have been obvious (and was, but I didnt know any exact amount): We arent raising enough money.
"Ultimate responsibility rests with me 100%. Wearing so many hats gave me conflicts of interest. I could have been more open about the budget sooner, but at the cost of the positive promotion I've been trying so hard to put out there. Who can say what I should have done, I'm only aware of what currently needs doing. Obviously I have much to learn from this experience."
What is the $10,000 needed to cover? Curtis wasn't very precise about this. $10,000 is a lot of money after all. I asked Curtis to release the entire PorcFest budget, but he refused claiming a non-disclosure agreement (NDA) tied his hands. Here is what he was willing to reveal to me, however:
$15,750 in Shortfall?
$6,000 to Roger's Campground for the rental of common area buildings and hotel rooms.
$4,000 to speakers such as Roderick Long, Stefan Molyneux, Robert Murphy (of Mises) and Adam Kokesh. All four, according to Curtis, are being comped their travel and lodging expenses. Long is receiving a fee for his appearance.
$2,500 to Abbott's in rental fees for tents, tables, a stage, dance floor, etc.
$1,500 to a sound engineer and for "tech needs"
$1,000 for music and bands.
$500 for registration and "welcome needs."
$250 for miscellaneous expenses.
All of which actually adds up to $15,750. Curtis also added that, in the final analysis, he has $10,000 and needs $20,000. The numbers don't add up, which only adds to the sense of confusion and shock.
If you'd like to help PorcFest but target your support, Curtis says that you can do so by sponsoring only those events, speakers and/or venues that you like. "The packages are completely customizable," he says. "So long as someone else isn't already sponsoring what someone is interested in, a new sponsor can get whatever they want, basically."
Curtis reports that since making the announcement this morning, he has raised almost half of his $10,000 goal. "I havent stopped fielding sponsor and donor inquiries since this morning," he said. "Seems I only needed to let people know we actually need their help, because once they became aware they started stepping up."
Taken Aback
Some PorcFest attendees were taken aback at news of the large shortfall. Adam Mueller of Liberty on Tour commented, "Don't know how Sovereign Curtis can expect people to donate with such a vague description of expenses. Plus, PF shouldn't cost a dime.. these should all be personal contacts between Roger's and individuals (or orgs) that want to rent/use their buildings, campsites and other facilities. 'PorcFest,' which is just the name of the gathering, can be run by spontaneous order."
In response, Curtis commented that he wants to move towards more outsourcing but feels bound by all the contracts he and others in the Free State Project have presumably already signed with speakers, Roger's Campground and other vendors.
"Bottomline," Curtis concludes, "fundraising was not my priority until today."
My Take
This is a false alarm and an especially maladroit fundraising tactic. Curtis and Jason Osborne report that they are successfully raising the money they need right now. I can only speculate, but based on a close observation of Curtis' comments, the PorcFest 2011 fundraising tasks have been neglected and Curtis decided to solve the problem in one fell swoop with a dramatic call to action. I don't know whether this gimmick was premeditated, but it was definitely very clumsy. While Curtis may have succeeded in raising his $10,000, he also embarrassed himself and shook people's faith in the Free State Project – yet again!
PorcFest is another beloved liberty community institution, just like Liberty Forum (was). So it's easy to wave your hands and yell, "PorcFest is in trouble!" But it's also expensive. If the FSP isn't more circumspect in the future, they risk killing their golden goose. In reality, this top-down model of organization that the FSP, inc uses is broken. PorcFest should be spun off to a more egalitarian level of community organization so that costs can be reduced and decision-making be kept at the level of the community. $4,000 for speakers? Come on. If those guys can't pay their own way, let 'em stay home. It's their loss.
See You at PorcFest
I'm going to PorcFest again this year because a lot of my friends are going. You can find me at T41 or Agora Valley #48 in the second walkway called "Clark's Best Lemonade Lane." My son Clark will be selling delicious, natural lemonade for just 1 silver gram per cup!