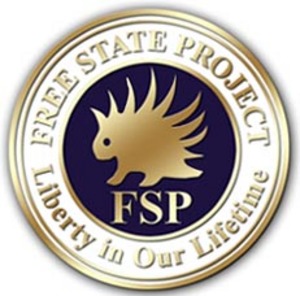 Every year the Free State Project (FSP) holds a popular conference for libertarians nationwide called Liberty Forum (LF). It is their flagship event, one of only two they host each year. Liberty Forum has gained the Free State Project considerable credibility and attention from libertarians nationwide. It's the kind of event that underlined their project with seriousness and depth.
But this year LF organizer Rich Tomasso took the surprisingly quick decision of canceling Liberty Forum due to a shortage of funds, weak advance ticket sales and a lax promotion effort. Online, people are taken aback. Ian Freeman, host of leading libertarian talk radio show Free Talk Live posted that, "The FSP has canceled the 2011 Liberty Forum. :( LAME.". Arm your Mind for Liberty reader Kayleen commented, "Why was it canceled? I'm shocked!"
Here is what FSP insiders have been saying as this decision evolved over the last 48 hours. FSP president Varrin Swearingen kicked off the decision-making process with an email on December 22 titled "Crisis in the making".
Y'all,

I hate to be writing this email. The elephants in the room should be obvious.
They are:

1: Liberty Forum is headed for disaster in virtually every measurable way.

2: The FSP's finances are headed for disaster.

Weeks ago, I indicated that we needed to prioritize those two issues. Since
that time, *some* progress has been made.

Liberty Forum has a keynote. There has been some promotion of Liberty Forum.
However, the lineup isn't rounded out, promotion has been way too little way
too late (litmus test: if my wife doesn't tell me she's hearing about it
several times a day, it's way too little), and sales is commensurate with
promotion (WAY underperforming).

The FSP had a money bomb. It did actually get far enough to have an
announcement. It did manage to raise over $8000 for the FSP. But it, too,
was insufficiently promoted and WELL underperformed last year's well-promoted
money bomb.

I have avoided getting too personally involved in either. I don't want to
micromanage this organization's activities. I don't have the time to
micromanage this organization's activities. And I think it sets a bad
precedent to have the same half-dozen people doing all the important work.

Yes, I'm disappointed. Yes, this is a bit of a verbal spanking. But now, we
need to figure out where to go from here. If we continue on the path we're on
now the FSP will be bankrupt this winter.

Let me say that again.

If we continue on the path we're on now, the FSP will be bankrupt this winter.

My question to all of you is this: Do we want the FSP to be bankrupt? Do we
want to close the doors on the most effective pro-liberty organization in our
lifetime?

If not, we need to do whatever it takes to:

1: Ensure the success of Liberty Forum, and

2: Raise the rest of the funds we need to keep the FSP operating (I'd say
another ~$20-25k in the next couple months at a minimum).

To these ends, I first ask Rich and Brandon to submit their plans *here* (on
Doers) to resolve the underperformance of these two projects within the next
30 days. Further, I invite anyone else to submit your suggestions and/or
plans, competing or complimentary, as the case may be. I request that you
stick to constructive suggestions. I'll do likewise (under separate cover as
a reply to this email).

I hope we can work together to resolve these issues. I'm very sorry I'm
having to write this, especially around Christmas time when many of us are
trying to focus our attention on our families (or anything other than FSP-
related issues).
The next day, FSP insider Denis Goddard wrote this:
Irena & I have been following this thread.

Frankly, speaking for both of us, we'd like to see the event canceled *NOW*. Not
in 2 weeks. NOW!

Pros:
* Relatively small monetary cost, and we AVOID GOING BANKRUPT
* Avoid negative press around imminently going broke
* Leaves us with money to focus on DEVELOPMENT and ADS, so we get more money
coming in
* Gives us plenty of time to plan for a super-huge, biggest-yet
presidential-year 2012 Liberty Forum

Cons:
* A (very) few people will have to get their ticket money refunded
* Lots of people will complain for 3 days (and then largely forget about it)

Over the next year, we are going to have some very visible, in-state victories.
Let's not let a bad NHLF sour that opportunity.

Varrin, Irena would love to touch base with you, call her at home any time
And, on Friday, LF organizer Rich Tomasso posted this message
This is a heads-up that we have decided we have to cancel Liberty Forum for
February. A more complete announcement will be forthcoming early next week. A
few business details need to be taken care of today. I'll be informing the
speakers as soon as I can this weekend. Sorry for the bad news on the holidays
but a decision did need to happen now. If you have any questions I'll get to
them as soon as I can, I'll be traveling this weekend.
Messages were posted online saying that an announcement would be forthcoming on Monday December 27. Will they push it back a month and try again? Based on my reading of the FSP-Doers mailing list, these folks have no fight left in them and are in a rush to throw in the towel.

Meanwhile, several regular Liberty Forum participants are committed to rescuing Liberty Forum. See here for some thoughts on how we might do it.
Why did it fail? The organizers dropped the ball. Tomasso's PR effort was a whisper when it should have been a shout. He started at least one month too late. Given the poor economic outlook and the dignity-stealing airport checkpoints, any libertarian conference this year is an uphill battle. Tomasso should have recognized this and redoubled his efforts. He should have asked for help. He should have done more.
What does this mean for the Free State Project? It does not bode well. We may be witnessing the end of the FSP, inc. (the formal corporation that's latched on to the FSP movement). And that's fine by me. Centralized, hierarchical leadership is self-defeating. The FSP, inc, seems to be a case study in this principle! A decentralized, egalitarian, dynamic and dare I say anarchistic mode of organization is the way forward. Let the FSP, inc die on the vine so something better can arise from the ashes. Ditto for Liberty Forum. The other FSP event, Porc Fest, is already well on its way towards that goal.
P.S. Stay tuned for more thoughts and a Liberty Forum 2.0 organizer conference call early next week.